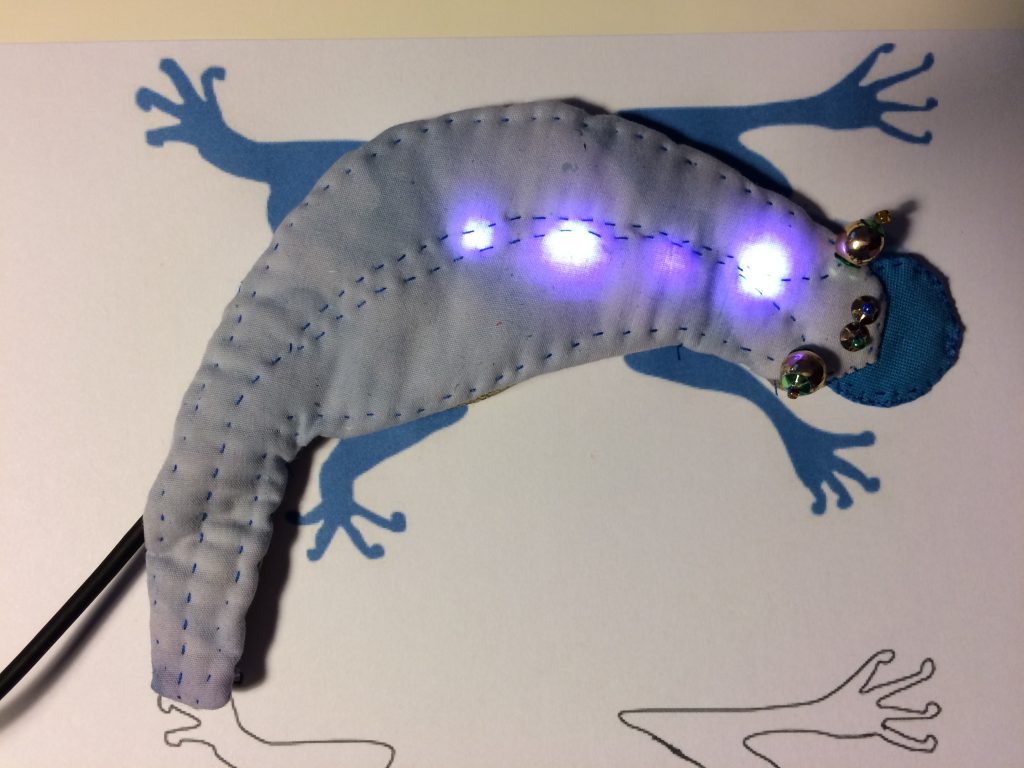 Computational design, soft electronics, soft robotics, wearables, zero waste textiles design, natural dyes, bacterial dyes, bioplastics and much more exciting innovative materials. Look at what I've made during my time in Fabricademy 2018-2019 at the TextileLab of WAAG. You can find my personal documentation HERE.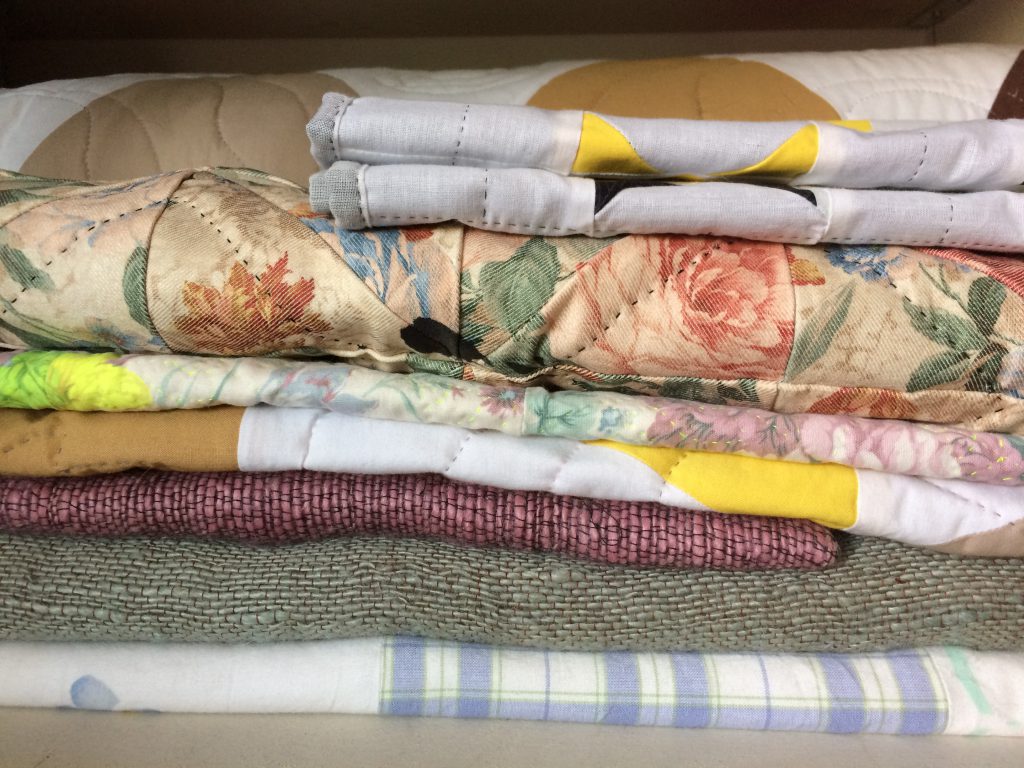 ORIGINAL APPLICATION, SUMMER 2018
Dear people from Fabricademy,
Welcome to the webpage I dedicated to you. Please allow me to explain why I would be very happy to participate in the program.
I am applying to Fabricademy 2018 because I want to create an interactive quilt that thermoregulates the sleeping body, using body temperature, body movements and the outside environment as sources for an artificial negative feedback system that cools down or heats up a person whilst resting. A process of 'bio-cybernetic exoregulating by quilt', meaning that the quilt functions as a cybernetic skin or synthetic 'fur' that keeps the body temperature balanced and suitable for deep and healthy sleeping, relaxation and recovery. In short: cyberquilt.
TECHNOLOGY A conventional quilt consists of a minimum of three layers: top, filling and back. Usually it is patched (made of little pieces of textile sewn together in an interesting pattern) and always it is quilted (stitched through all the layers) to bind it together. It has a firmly constructed edge on the side. Therefore a quilt has many options to integrate technology and cybernetics into it. For example an electrical circuit could be hidden inside or even used as a design element on the outside or edge. A cyberquilt that would support the body to thermoregulate probably needs several technological and digital applications. Moreover it has to be sustainable (preferably for lifelong use) and adaptable (for changes in someone's circumstances due to developments in life, such as getting married or divorced, having a baby, becoming elderly or disabled, gaining or loosing weight, menopause, and so on). How can such a cyberquilt be assembled?  How can a cyberquilt with electronics inside be kept for sustained daily use? How can it be washed and mended? Should it be modular, so that it can easily grow or shrink in size? Should it run on an external energy source (for example solar power harvested during the day?) or could it powered by kinetics and body energy, so that it need no batteries or plug for the power grid? These are profound design challenges.
STORYTELLING Since every single body is unique (as are sleeping habits), each interactive cyberquilt shall probably have to be custom made for its user. Apart from its technological engineering, a cyberquilt therefore also calls for a dedicated visual design. Being an individual object for daily use, almost literally a second skin for the night, a quilt is intimately and deeply personal. Traditional quilt designs tell all kinds of stories, sometimes personal, sometimes anecdotal, sometimes monumental, sometimes political and sometimes all of these things at the same time. What visual design should a cyberquilt have? What story should it tell? Should it be a token of hard work in someone's waking hours, like the quilts of Gee's Bend? Should it relate to the personality or psyche of its owner, like a Native American name, and if so, should it be able to allow for changes? For instance when its owner discovers he or she is transgender? (Which makes one wonder: do quilts have gender identity?) Or should it tell the big story of climate change, as a constant reminder to care better for the environment?
PERSONALLY As an artist I have a background in (new) media art and interaction design. I studied unstable and digital technologies at Gerrit Rietveld Academy, where I graduated with an honours degree in artistic research, having developed an interactive 'photo finish' installation to study time under guidance of (among others) artist-researcher Jennifer Kanary. By the way I am now a co-worker in her Labyrinth Psychotica Project, which is a great inspiration for this cyberquilt project. A few years back I was struck with illness – from which I am now almost fully recovered – and was forced to spend a large amount of time in bed or resting on the couch. During that time I took up my old passion for quilting, a craft I have loved and practiced since I was a girl. Whilst experimenting with new ways of assembling patchwork and alternative methods of quilting and binding multiple layers of fabric (all by hand), and at the same time struggling with ill health and resulting mood swings, I got the idea for a quilt that would interactively boost and sustain a person's well-being, both physically by technology and mentally by design. I started doing some research on how nature performs thermoregulation biologically (both in animals and plants) and I tried to discover what scientific progress is made concerning 'smart' blankets and interactive textiles. Also I was looking into the beneficial (psychological) effects of pattern, grid and use of colour.
INNOVATIONS IN BEDWARE Actually, I was quite surprised to learn how little innovative engineering and also how little fashionable design is currently produced in the field of bedware. And I was even more surprised because of climate change and how people are – I think – in need of bedware that can respond to the new nighttime reality of more heat and humidity, at least in The Netherlands and more specifically in Amsterdam.
COLLABORATION I know my dream to create an interactive thermoregulating cyberquilt is crazily ambitious. I have begun with sketching and experimenting, for example with 'thickness-gradients', quilting with conductive thread, creating 'pores' and trying to find out how a quilt could communicate with the body. (Patches? A special pyjama? A wristband? Wearable bedware? See below for some images.) However in order to better study, develop, design and ultimately construct the cyberquilt I envisage, I need support, skills, guidance and cooperation. Enter: Fabricademy. The program and practice of Fabricademy is so brilliantly suited to what I need to learn and how I want to work (that is, collaborating with people sharing knowledge and inspiration) that I would love to participate. Especially because I have extra time and extra means from September onwards, which is a truly fortunate coincidence.
FUTURE RESEARCH During the study I hope to build a cyberquilt prototype. I also want to produce a fundamental proposal for further artistic-scientific research, so as to be able to continue the cyberquilt project after my time at Fabricademy.
Please feel free to browse this website and follow the links to other blogs to see my work and portfolio.
Teresa van Twuijver
Amsterdam, July 2018